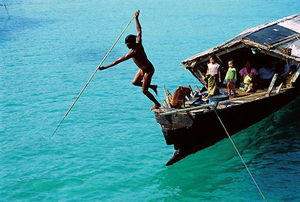 The blue waters off the Tanintharyi coast of Southern Myanmar are home to a race of people called Salons in the Myanmar language. Also known as Moken, they are a nomadic people. They roam the seas in their fragile canoes looking for sea cucumbers, pearls and otherwise searching the sea bed for their livelihood. Even the deadly sea urchins with their prickly and poisonous spikes are handled with ease by them. The Salons families hop from island to island, making their canoes their home, never touching land except when the seas get rough during monsoon time. All their worldly possessions are piled in their small boats, not excluding the household dogs even, as they wander from one deserted island to another as their forefathers had done thousands of times in as much years. And this had earned them an epitaph as Sea Gypsies.
There are many theories as to their origin. One source says they are of Austronesian ethnic group. Another says they migrated from southern China some 4,000 years ago. It was speculated that in the late 17th century, while moving through what now is Malaysia, this group split off from others and made the sea their habitat .And more recently, Jacques lvanoff, a Frenchman who had studied these nomads of the sea, had categorized them as the spearhead of a littoral civilization that began colonizing the Taninthayi region from the south , escaping from the ensnaring clutches of the dominant religion of that region and mercantilism and had made poverty a symbol of their identity within the Malay social chrysalis.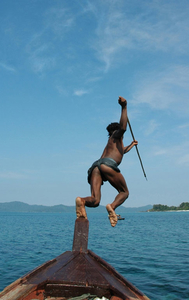 But one thing for sure is that they had been in the area for decades if not centuries. Many islands in the Myeik (Mergui) Archipelago have Moken indigenous names: Kyun Mei Gyi is Lui (its previous English name was Clara) in Moken spoken language. Lebi in Moken has envolved into Lumpi, but during the colonial period it was called Sullivan Island. Bo Cho Island as we now call the island facing Lumpi Marine National Park was called Pu Nala or Luark in Moken language but in the British Admiralty Charts, the name is Eyles. So this shows that the Salons were in this region even before the British arrived. It was only in 1783 that a British mariner Capt. Forrest sailed these waters and give English names to most of these islands in the Myeik (Mergui) Archipelago. However, the Myanmar government had renamed almost all these isolated island with Myanmar name in 1990.
Researches show that the earliest mention of these people appeared in the Calcutta Government Gazette dated March 2, 1826. Also in the East India Gazetteer, vol (ii) page 226 published in London in 1928, it was mentioned that "A race of men , termed by the Burmese (Myanmar) Chalome and Pase are to be found scattered throughout the Myeik (Mergui) Archipelago. But their dread of Malayan and other pirates has compelled these poor creatures to adopt an unsettled mode of life". By inference, Chalome might be what we now call Salon and the Pase could be Pashus, a mixed Malay race.
A British author W.G White had also written about them in 1922. He wrote that "a Burmese (Myanmar) King at Ava (Innwa) had sent for some of these Sea-Gypsies, had taught them how to read and write and sent them back".
The Islands and the seas the Salons call as their home is beautiful. More than 800 islands dot this area. Many of the islands are bigger than some island-nations in some parts of the world but some are just jutting rocks barely above the lashing waves. Most are uninhabited but there are also islands where quite a large community of squid fishers and others had established themselves. The common thread of these villages is the availability of fresh water for although the islands are all surrounded by water the sea water is unfit to drink. One of the most important of these is the Ma Gyun Galet Salon (Moken) village situated on Bo Cho Island, opposite the Lumpi Marine National Park.
This village now has a mix of both Salon and other people from land who had settled here. But the most important industry here is squid fishing. The squid fishing boats are conspicuous with their long arms attached with lights extended over the water. These are lit at night (squid fishing is mostly done at night) to lure the squids to the surface and are caught in nets. Then there is Nyaung Yee village, another Salon village, clinging onto the narrow strip if the shore. The Salons at these villages still dive into the clear blue waters for sea urchins and pearls the traditional way. They can dive deep and long without any external breathing apparatus. Even the children treat the sea as their playground, somersaulting happily into the waves from their small rocking canoes.
Now there is change in the air. International tourists had discovered these once restricted areas and now these once restricted areas and now come with live aboard dive boats and wonder at the underwater beauty at many dive sites. It is hoped that the Salons can still retain their age old and distinctive lifestyles and customs in this modern age.
The islands in the Myeik (Mergui) Archipelago are accessible by air from Yangon via Kawthaung. Another option is to arrive from Ranong in Thailand to Kawthaung by boat.
The visitors then transfer at Kawthaung Jetty to the prearranged live aboard dive boats or to hotels situated on some of these islands. There are currently two hotels catering to international visitors: one is Andaman Club Hotel at Thahtay Gyun just opposite Kawthaung, the other is Myanmar Andaman Resort on Khayingwa Kyun, some 40++miles offshore.
The visitors have many options once they arrive at the islands. They can go scuba diving or visit the Ma Gyun Galet and Nyaungwee Salon (Moken) villages. They can also visit the Lumpi Marine National Park opposite Ma Gyun Galet Salon village.